Productinfo
Vind meer informatie over uw product.

Check uw handbagage
Ga na voor welke luchtvaartmaatschappijen uw handbagage geschikt is.

Instructies sloten
Leer hoe u een code kan instellen op uw slot.

Vind de dichtstbijzijnde winkel
Vind de dichtstbijzijnde winkels bij u in de buurt.

Garantie
Bekijk hoe lang de garantie op uw product nog geldig is.
(Enkel voor geregistreerde producten)
❮
❯
Zoek uw product
Vul uw product ID in
Kan je uw product ID niet vinden?
Click here
Gelieve de volgende informatie in te geven:
Waar kan ik dit terugvinden?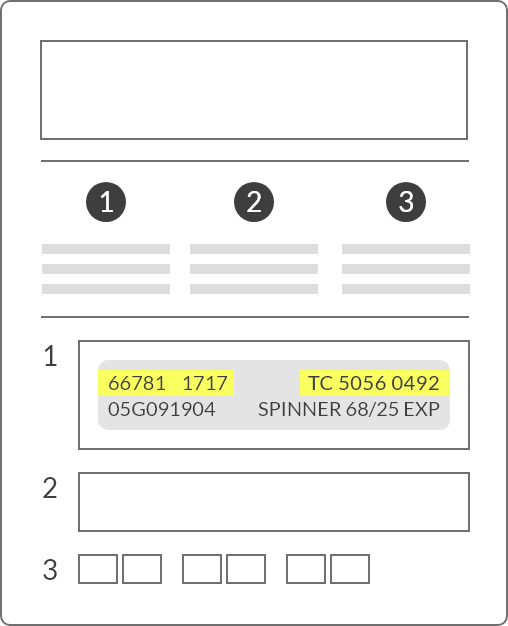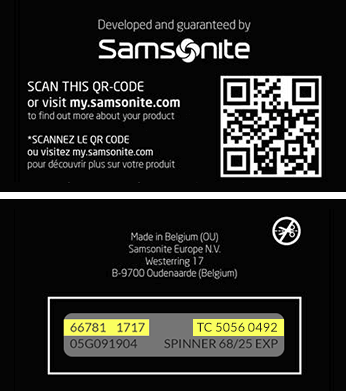 Uw product ID bestaat uit cijfers en letters die u op uw garantiekaart of het QR label kan terugvinden. Op bijgevoegde afbeeldingen kan u zien waar de code vermeld staat.
Als u de code hier niet vindt of er is geen QR label, dan kan u deze ook aan de binnenkant van de koffer/tas terugvinden. Afhankelijk van het type Samsonite product, staat de product ID ofwel onder de stof van de koffer, ofwel in de vakken ofwel onder de voering vermeld.
Geef de product ID zonder spaties in en klik op 'controleren'.